Lion King Movie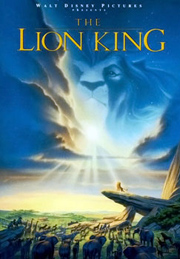 Directors:
Roger Allers, Rob Minkoff
Writers:
Irene Mecchi, Jonathan Roberts, Linda Woolverton
Release Date:
June 24, 1994
Casts:
Matthew Broderick, Jeremy Irons, James Earl Jones, Jonathan Taylor Thomas, Nathan Lane, Ernie Sabella, Moira Kelly, Robert Guillaume, Rowan Atkinson, Whoopi Goldberg, Cheech Marin, Jim Cummings

Description:


Lion King is the story of a cub named Simba, son of King Mufassa of the Pride Lands. One day Simba's uncle Scar executes a plan to kill Mufasa and Simba in hopes of taking over as king. Scar lures Simba into a trap which results in the death of Mufasa who tries to save his son. Simba flees his home believing he is the cause of his father's death and eventually meets his future companions Timon and Pumbaa.
| Video | Parts | Video Source | Date Added |
| --- | --- | --- | --- |
| Lion King (movie) | 1, 2, 3, 4, 5, 6, 7, 8, 9, 10 | YouTube | Sept 28, 2009 |
Lion King Songs